Moment Of Truth For Mirror Image Swiss Stocks, Franc Post De-Peg?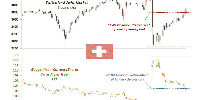 The Swiss National Bank sent ripples throughout the financial world on January 15 when they unexpectedly removed the cap on the Swiss Franc versus the Euro.
The Franc jumped almost 30% versus the Euro that day. The same day, Switzerland's main stock average, the Swiss Market Index (SMI), dropped nearly 9% due to the strength in its home currency (the move also produced material for our most popular chart we've ever Tweeted: the SMI going from 52-week high to 52-week low in the same week). (Read More PDF)
If You Missed The Rally, Then You Just Made The Most Classic Mistake In Investing
The past two months have been challenging for stock market investors. The S&P 500 quickly tumbled 9.8% from its Sept. 19 all-time high of 2,019 to as low as 1,820 on Oct. 15.
Because of the way our brains work, most of us worried about the possibility that this correction was turning into an outright market crash. Our instinct was to dump stocks. Surely, many investors sold and told themselves they would "wait out the volatility" on the sidelines. A confident few likely even shorted the market.
However, history shows this is the most classic mistake investors make. So, kudos to those who held on to their long positions. (Read More PDF)